On the Loose in Philadelphia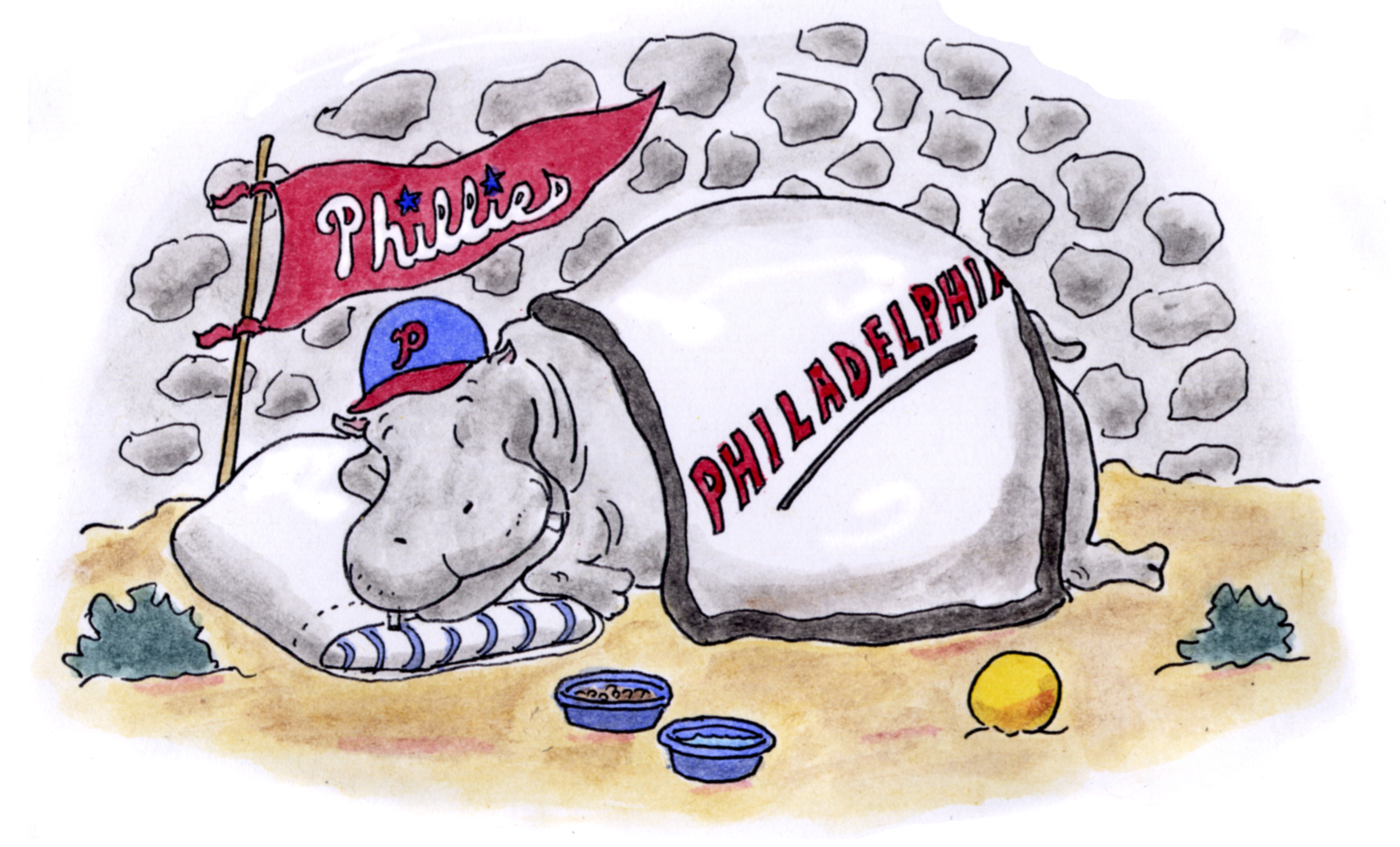 Cartoonist Sage Stossel created her "Find-the Animals" bestseller On the Loose in Boston in 2009, in which animals from Franklin Park Zoo escape and show up in settings from Fenway Park to Faneuil Hall.
She followed it with On the Loose in Washington, D.C. in 2013, when the National Zoo's animals got the same idea, and cavorted around our nation's capital from the White House to Capitol Hill. Next stop? The City of Brotherly Love! Children will have hours of entertainment finding the Philadelphia Zoo animals in On the Loose in Philadelphia—whether a monkey at Independence Hall, a kangaroo at the art museum, or a hippopotamus at a Phillies game! Over 100 animals are hiding cleverly in favorite Philadelphia locations in this colorfully-illustrated rhyming picture book.
Coloring

Try coloring in some of the scenes from On the Loose in Philadelphia. In the book, these pages are in full color, but the versions here are black and white so you can print and color them however you like:—

Sleeping Hippo | Rocky Statue | The Liberty Bell | The Betsy Ross House | Geno's Steaks | Pat's King of Steaks | Benjamin Franklin Statue | The Please Touch Museum | Love Park | The Philadelphia Skyline | Independence Hall | Boathouse Row | The Italian Market | Citizens Bank Park | The Philadelphia Zoo | Quince Street | Rittenhouse Square


Recommended by Mommy Nearest, Philadelphia as one of "10 Books All Philly Kids Should Have on Their Shelves"
"Perfect for city kids to appreciate their home or suburbanites to familiarize them with city highlights before a trip into town, we find it a fun, interactive addition to the bookshelf."
—Melissa Greiner, Philadelphia Family Magazine
Review of On the Loose in Boston, at Boston Mamas.com: "Not only are the illustrations awesome, Stossel engages the reader with challenging searches for the Franklin Park Zoo animals artistically hidden among her drawings, and she entertains us with a rhyming plot that tickles the tongue with wonderful vocabulary."Read more...
On the Loose in Washington: "As much fun for parents as it is for children ... Younger readers will love finding the animals. And people of all ages will delight in seeing the nation's capital as it should be—a cheerful city with beautiful buildings, blue skies, and all kinds of happy creatures." —Jennie Rothenberg Gritz, Smithsonian Magazine senior editor and Washington, D.C., parent